Our Team
How can we help you today?
About Our Team
At New Horizon Therapy, our goal is to empower patients to meet their full potential. We offer speech and language therapy for children and adults plus occupational therapy, orofacial myofunctional therapy, dyslexia assessment and treatment, social skills, feeding therapy, and telehealth options to the children and adolescents of the Southeast Valley and surrounding areas.
Led by Armida Carr, M.S., CCC-SLP, our team of seasoned professionals provide individualized services that will foster positive communication experiences, enrich family relationships, and achieve healthy child development and adult rehabilitation. We believe our families are just as much a part of the therapy process as our staff. We provide caregiver consultation and education following each session, as well as offer parent classes to increase the opportunities for your child to thrive in their everyday environments.
Thank you for trusting us with the care of your children, parents & grandparents! We love what we do – we promise.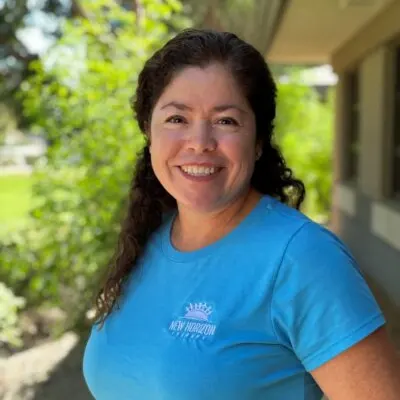 Armida Carr
SLP, Founder Bilingual
Armida Carr is the founder and owner of New Horizon Therapy. Armida holds a MS from Arizona State University, is licensed by the State of Arizona, and is certified as a Speech Language Pathologist by the American Speech-Hearing and Language Association (ASHA). As a bilingual speech-language pathologist, Armida has extensive experience with both the pediatric and geriatric population in providing monolingual and dual-language therapy. She holds certifications in Orofacial Myology Disorders, SOS Approach to Feeding, Myofascial Release and Hanen Parent Training "It Takes Two to Talk" in addition to providing individualized services to address speech and language disorders. Armida has been practicing speech and language therapy for 13 years and is driven to ensure that each of her patients receive the best quality treatment and care.
Wife to husband (Geoff Carr) and mom to (3) 1 daughter/2 sons, Ms. Carr appreciates time spent with family. Together they travel and simply enjoy one other's company at home. On her off time, Armida also practices Summits yoga, which is known as a combination of Bikram and Vinyasayoga. She loves to hike, read, may also be spotted at a nearby café where she enjoys a delicious cup of coffee and a tasty, (organic) sweet roll.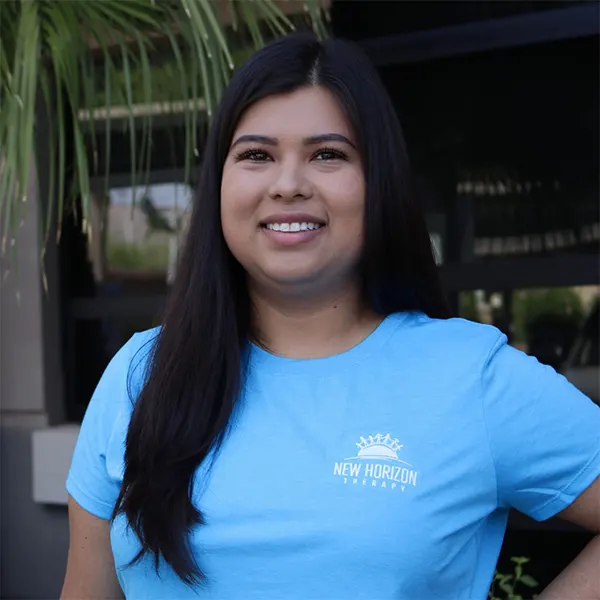 Natalie Gonzales
Office Manager/Billing Administrator
Natalie holds a certificate in medical billing and has extensive experience working in the medical setting. In her time at New Horizon Therapy, she has excelled in her duties of patient customer service, billing, payment processing, and financial counseling. She also is fluent in both English and Spanish, which has been very beneficial in our clinic. Natalie has been a great addition to our team and always goes above and beyond what is asked of her.
Natalie was raised in California but calls Arizona home. Natalie enjoys spending time with her husband and daughter. In her free time, she enjoys reading, cooking, and being outdoors.
Natalie has also discovered a passion while working at New Horizon Therapy and has realized how much she enjoys helping kids and their families.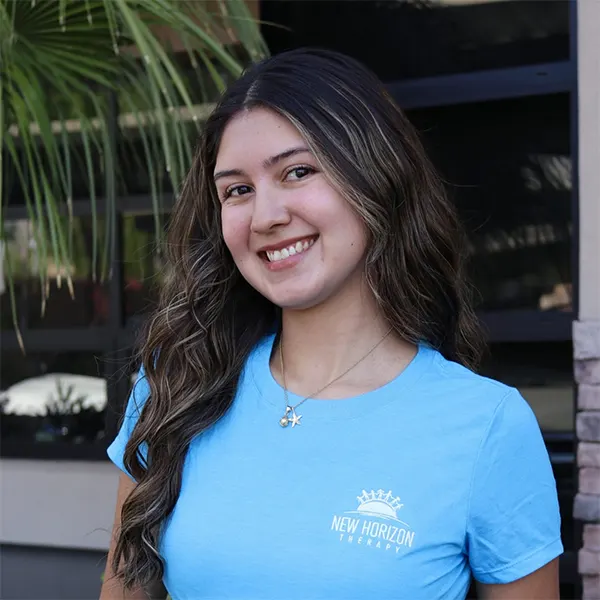 Joselyn Martinez
Occupational Therapist Assistant
Joselyn was born and raised in Southern California. She worked as a paraprofessional in an elementary school upon moving to the Valley of the Sun. For three years, she worked in the schools where she discovered her love for Occupational Therapy. Through her experience in accompanying children to OT appointments, Joselyn observed how improving their self-esteem led to a greater level of independence and motivation to achieve everyday activities. Joselyn graduated from Pima Medical Institute with an Occupational Therapy Assistant degree. She has extensive experience in a post-acute setting with geriatrics but her passion is working with the pediatric population. Joselyn became an Advanced Level 1 Mentored Clinician in Sensory Processing Disorder through the STAR Institute. Joselyn obtained feeding therapy certification from Get Permission Institute. She has continued her education with training in Astronaut Protocol, Primitive Reflex Reintegration, Handwriting Without Tears program, and emotional regulation programming including "The Zones of Regulation" and "Superflex Social Thinking". Joselyn is also trilingual in English, Spanish, and Portuguese.
Joselyn enjoys her trips to the beach, eating delicious food, and spending time with her husband and fur babies.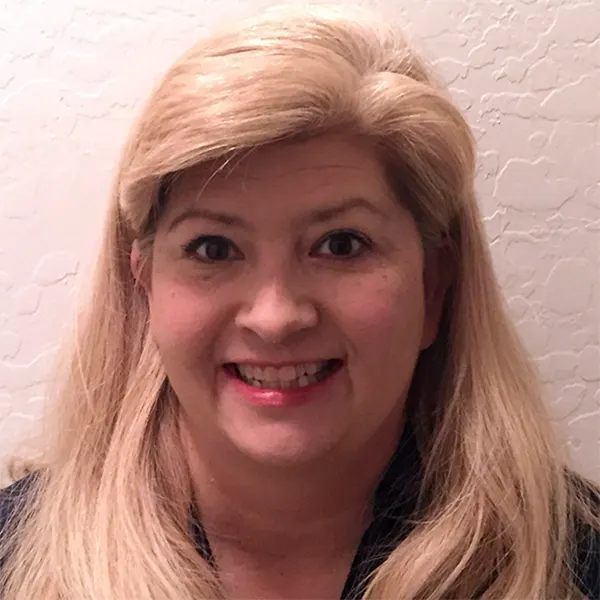 Lori Roberston
Speech Language Pathologist Assistant
Lori was born and raised on the west coast, in CA. She received her first degree, a Bachelor's of Science in Accounting from NMSU; and second, Bachelor's of Science in Communication Disorders from ASU; 10+years working in speech. We love her passion for STEM and Robotics; she serves as a mentor for FIRST: For Inspiration & Recognition of Science and Technology, a robotics non-engineering non-profit for LAUNCH Team Robotics K-12.
Ms. Robertson's favorite quote is "You're braver than you believe, stronger than you seem and smarter than you think." from Winnie the Pooh movie.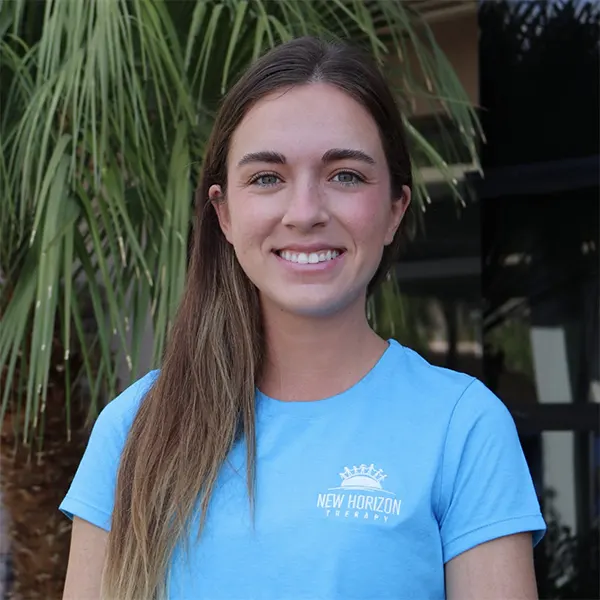 Rachel Mahon
Rachel was born and raised in Lenexa, Kansas which is a suburb outside of Kansas City. Phoenix is the very first place she has lived outside of her hometown!
Rachel's professional background includes work with individuals across the lifespan. She has worked with children for the last decade in various capacities. She gained clinical experience with adults in the inpatient hospital at Truman Medical Center and Olathe Medical Center working with various diagnoses. Rachel's outpatient experience included neurorehabilitation and consultation for individuals with neurodegenerative conditions, spinal cord injury, stroke and more.
We're so pleased to have Rachel as part of our New Horizon Therapy family. We appreciate her passion for working with children.
In her down time, Rachel stays active, hiking, camping, or exploring. One of her favorite quotes is also one of ours, and is a credo we live by: "I've learned that people will forget what you said, people will forget what you did, but people will never forget how you made them feel." –Maya Angelou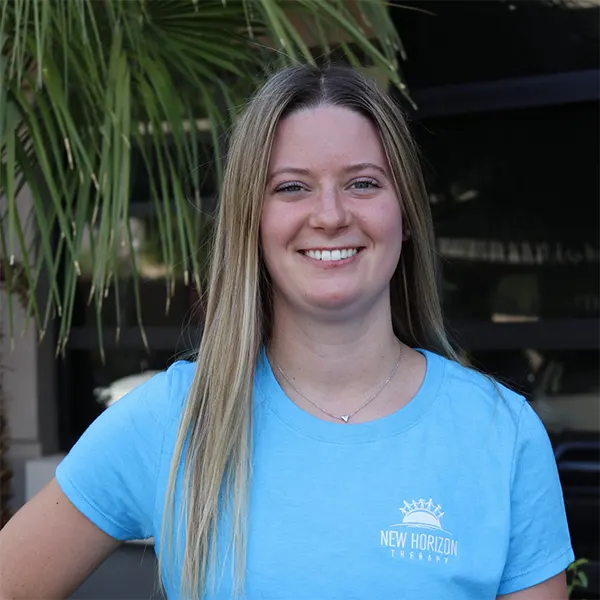 Kaitlyn Ruff
Kaitlyn was born and raised in Iowa. She moved to Arizona in 2014 to attend Arizona State University where she graduated with a Bachelors of Science in Speech and Hearing Sciences. Kaitlyn brings much experience as an SLPA in both the clinical and school settings. When asked what she loves most about continuing her career at New Horizon Therapy, she said the atmosphere and the people! "The team here at New Horizon Therapy are amazing therapists who truly want to make an impact on the clients, which is exactly the kind of people I want to be surrounded by!"
In her free time, Kaitlyn enjoys cooking and baking in the kitchen. Her favorite quote is by J.R.R. Tolkein – "Not all who wander are lost". So true!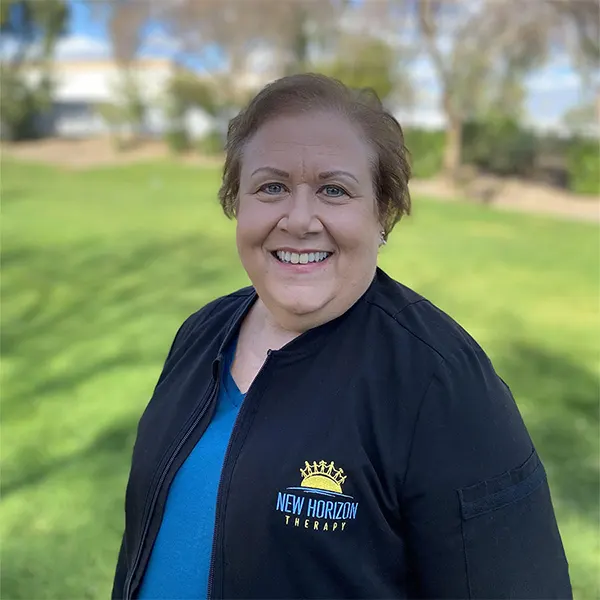 Eileen Ryan
Eileen Ryan is a Speech-Language Pathologist and is very excited to be a part of the New Horizon Therapy team! She graduated from Arizona State University in 2008 with a MS in Communication Disorders. Eileen is also licensed by the State of Arizona and is certified as a Speech Language Pathologist by the American Speech-Hearing and Language Association (ASHA). She has a wide range of experience working with young children and school-aged children with a variety of speech and language disorders in the pediatric clinic and school settings. Eileen also has extensive experience working with adults from 18 years of age to 99 with acquired neurological disorders in the clinic setting as well as skilled nursing and long-term care facilities. She had the distinct privilege of working with Veterans at the Arizona State Veterans Home. Eileen strongly believes that every individual, young and not so young, deserves to have a voice to be able to communicate. She provides individualized services to ensure each client receives the highest quality of treatment and care.
Since joining New Horizon Therapy in 2022, Eileen has shared her knowledge and skills by mentoring and supervising graduate student clinicians as they complete their fieldwork experiences. She enjoys working with student clinicians and learns as much from them as they do from her!
In her time away from New Horizon Therapy, Eileen enjoys reading, spending time with family and friends, and sipping a good cup of coffee. One fun fact about Eileen is that she was once part of a flash mob!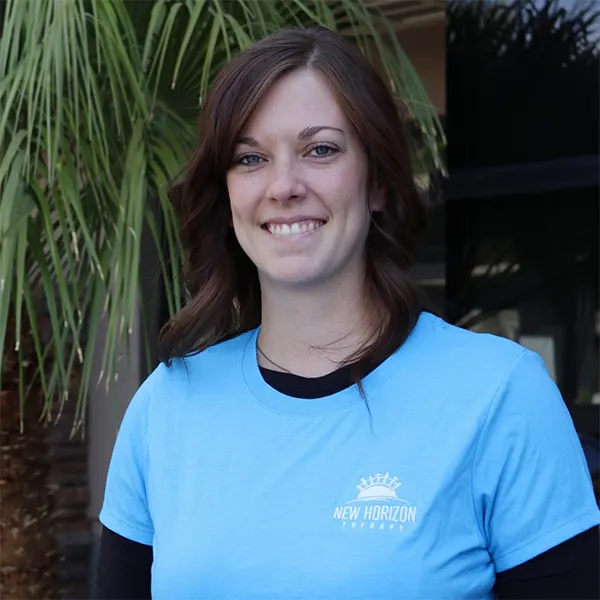 Lindsey Woodruff
Born and raised in Chandler, AZ, Lindsey received a Post Baccalaureate in Communication Sciences and Disorders. Upon joining the team at New Horizon Therapy, she felt immediately "at home". Lindsey is a compassionate and kind provider and appreciates the support our team shows one another. We appreciate her work ethic & integrity! Her passion for helping clients to feel comfortable and confident in their speech journeys is empowering for both she and the client!
In her down time you can find Lindsey walking her dog, drinking coffee and taking in a good book. She also loves to sing. Stop by and say hi to Lindsey!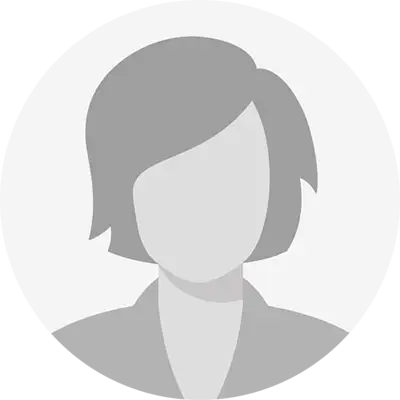 Savannah Ayers
Savannah was born in Chandler, raised in beautiful Flagstaff Arizona. She earned her Bachelor's of Speech and Hearing Science from Arizona State University. We're so delighted to have Savannah as part of our team – we knew straight away by the hours she has devoted to volunteerism in classroom and child care settings, coupled with her education and experience, that she would be a wonderful addition to the New Horizon family!
When she's not working you can find her participating in a variety of outdoor activities such as mountain biking and hiking. Next time you're in, say hello to Savannah!
Favorite Quote: "People will forget what you said, people will forget what you did, but people will never forget how you made them feel." -Maya Angelo